Beaded Hairsticks
We carry over a thousand different colors, shapes, and sizes of beads from which to choose. Each pair of our hairsticks is created and assembled by hand using the finest decorations available. Each stick is hand-turned from select hardwoods (e.g., oak, walnut, and maple). Each stick is custom made to be as long as is needed for your hair.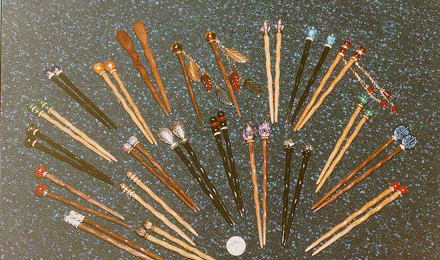 Prices start at just $20 per pair
This page was last updated on Thursday, March 7, 2013.
---

KJ Craftworks
483 Bruce Avenue
Odenton, MD 21113-1926
(410) 674-2975
Contact Us
Artist's DeviantArt Site

All images & text are ©1997-2021 KJ Craftworks, all rights reserved.
Please see our Privacy Statement. DOCUMENT_NAME: stick-beaded.shtml
DOCUMENT_URI: /Hairsticks/stick-beaded.shtml