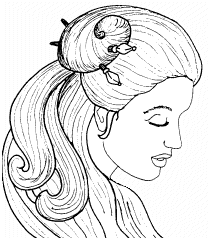 Hairsticks by KJ Craftworks
Just what are hairsticks?
Hairsticks are a type of jewelry for your hair that will simplify your morning ritual, and maybe even let you sleep five minutes longer. Hairsticks have been around for centuries. Their use originated in the Orient as a decorative method of securing women's long hair into elegant styles. Hairsticks offer this and more for the 20th century wearer.

Today, hairsticks offer a creative opportunity to both women and men. Women can develop both professional and romantic looks with a single tool. Many classic hair styles can be visually enhanced and technically simplified by the use of hairsticks. For men, they allow a comfortable and stylish way to wear their long hair in a short hair world.

KJ Craftworks creates hairsticks in a myriad of designs. We currently stock over 350 different colors, shapes, and sizes of beads to adorn the hand-turned hardwood sticks. Kathleen also carves a limited number of hairsticks into various designs. The spiral shape of our hairsticks is able to manage almost any hair, from the baby-fine to the immensely-thick. Each pair is also accompanied by a set of instructions for four different styles. In addition to the styles described in this booklet, wearers will find that hairsticks can be used with braids, chignons, nets, and other tools to create unique and attractive hair designs.
This page was last updated on Sunday, February 22, 2004.
---

KJ Craftworks
483 Bruce Avenue
Odenton, MD 21113-1926
(410) 674-2975
Contact Us
Artist's DeviantArt Site

All images & text are ©1997-2021 KJ Craftworks, all rights reserved.
Please see our Privacy Statement. DOCUMENT_NAME: index.shtml
DOCUMENT_URI: /Hairsticks/index.shtml