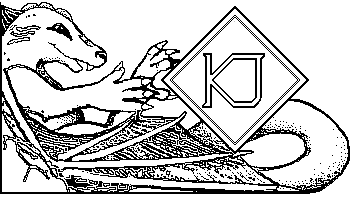 Other places to see
KJ Craftworks would like to thank the following:
Balticon for giving Kathleen her start so many years ago.
The Folklore Society of Greater Washington (FSGW) for lots of friendly faces.
Christine Freelin for her friendship and encouragement to forget the Brass Ring and go for the Gold Ring.
Denise and John MacMahon for their helping hands.
Some of our artisan friends at the renaissance festival
Fantasy Guilde Studios: leather masks
Threads of Time: embroidered renaissance clothing
Mardigan's Maile: chain mail jewelry and armor
Wheat Goddesses: traditional woven wheat and hats
Potomac Leather: leather clothing
Bee Folks: honey and beeswax
Visit these sites to see if there is a Festival in your area!

The SCRIBE Network maintains a very complete listing of Renaissance & Medieval Festivals.





This page was last updated on Thursday, March 7, 2013.
---

KJ Craftworks
483 Bruce Avenue
Odenton, MD 21113-1926
(410) 674-2975
Contact Us
Artist's DeviantArt Site

All images & text are ©1997-2021 KJ Craftworks, all rights reserved.
Please see our Privacy Statement. DOCUMENT_NAME: kj-links.shtml
DOCUMENT_URI: /About/kj-links.shtml